Washington DC w/ Pennsylvania Dutch
April 19 - 28, 2018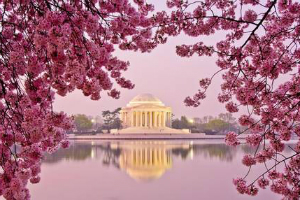 10-Day Tour | $1,950 ppd
An adventurous education of our history while marveling at the beauty of Washington D.C. and Pennsylvania are on the agenda during our Washington D.C. & Pennsylvania Dutch Country trip.
We start our fun with a visit to the Pennsylvania Dutch country side, where we will satisfy our sweet tooth while visiting Chocolate World in Hershey, Pennsylvania before enjoying the history and culture of the Pennsylvania Dutch country side, where you will enjoy an Amish-Style dinner and discover the Amish community.
The Cherry Blossoms blooming in historic Washington D.C. make this beautiful city that sits on the shore of the Potomac River even more amazing. You will be steeped in history as you visit sights such as the Smithsonian Institute, Washington Monument, and the Veterans Memorial as well as Mount Vernon, the original home of George Washington.
Join us on this amazing East Coast adventure!
This escorted tour includes deluxe motorcoach travel, luggage handling, 9 breakfasts, 1 dinner and 9 nights accommodations.
Tour highlights include:
• Pennsylvania Dutch Country
• Dinner in Amish Home
• Washington, D.C. City Tour
• Lincoln Memorial
• Washington Monument
• Vietnam Veterans Memorial
• FDR Memorial
• Korean Veterans Memorial
• Embassy Row
• Washington Cathedral
• National Archives
• Smithsonian Institute
• Arlington Cemetery
• Mount Vernon
• Gettysburg National Park
• 9 Breakfasts, 1 Dinner
---