Mystery Tour!
September 14-15, 2017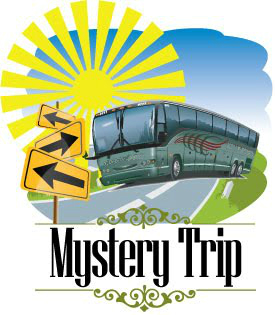 2-Day Tour | $380 ppd
There isn't much mystery anymore! Get some in your life with our 2 day Mystery Tour! You will enjoy the anticipation of not knowing what is coming next as you sit back and enjoy the ride. Tour includes 1 Breakfast, Lunch, and Dinner, mystery entertainment and attractions, deluxe tour bus, Tour Director, baggage handling and 1 night accommodations.
Tour highlights include:
• Quality Accommodations
• Mystery Location 1 night
• Deluxe Motor Coach
• Baggage Handling
• Tour Director
• 1 - Breakfast
• 2 - Lunch
• 1 - Dinner
• Afternoon and Evening of Fun and Entertainment
• Guided Tour and Attractions
• Exciting Sites and Stops
---